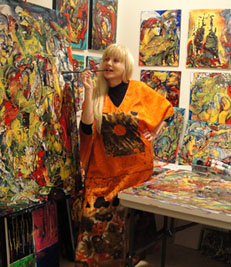 ristina Garon was born to a French family in Lithuania. Her mother was an artist and encouraged her early interest in art. Kristina from the early age was fascinated by her mother's ability to paint without any sketches.
Garon began studying art in Academy of Art, Vilnius, Lithuania, after that she continue studies in Academy of Art , Tallinn, Estonia. It was not until Garon came to America she begins to express herself as an artist without limitations. Before she came in America Kristina lived in Warsaw, Poland, Berlin and Munich, Germany. When Garon arrived to US she lived for 15 years in Los Angeles, California. After that she relocated to East Coast, Washington DC area.
Garon likes her paintings to be combination of bold, aggressive strokes and delicate, gentle, intricate detail. Garon's appreciation of strong color is partly due to their rarity when she was growing up. Her paintings are reflection of her life experience and positive thoughts fueled by her intuition and imagination. Garon not go looking for inspiration or ideas in everyday life. She leaves it to the Universe to decide what to send her. She calls her paintings "deliveries from Universe". While Garon's works have the swirling energy of many abstract works, they also suggest something quite different: the murmuring of numerous voices beneath each layer. The variety of styles impact our senses, awaken our emotional memory, and empower us to see the universe and beyond. Garon show the viewer that a painting should not end on the canvas. It should encourage viewers to create worlds of their own.
After seeing Garon's paintings in International Art exhibition " Creative Energy" that took place in Estense Castle Museum, Ferrara, Italy October 2010 Italian art critic and journalist Michela Turra in her Review of Kristina's Garon art wrote: " Garon developed the feature that became recognizable trademarks of her art. Garon's paintings demonstrating that abstract and figurative art can masterfully coexist, giving birth to an unexpected and successful synthesis. Her art gives joy: it is continuous discovery, total fullness of existence, where there is no sparing, because what matters is to give and to communicate the emotions of the soul"
Her paintings have been widely exhibited in group exhibitions, Agora Gallery, Chelsea, New York, Art Fusion Gallery Art district Miami, Florida, annual International exhibitions in Estense castle Museum, Ferrara, Italy and "De Marchi" Gallery, Bolonia, Italy. Also her work is in numerous private collections. Recently Garon today lives and works in Washington DC area.
Group Exhibitions
| | | |
| --- | --- | --- |
| 2017 | | ART EXPO Piazza del Popolo Rome, Italy May 26-May 29 |
2016

International Art Exhibition Agora Gallery New York City, Chelsea

May 20-June 9, Opening Reception, May 26, 6-8pm
2015

International Art Fair Museum Du Louvre Paris, France June 12-14




International Art Exhibition " Rhapsody in Color" Agora Gallery New York City

July 7-July 28, Opening Reception Thursday July 9, 6-8pm




International Art Exhibition " Contemporary Perspectives" Agora Gallery

New York City July 31-August 20, Opening Reception August 6, 6-8pm




The International Association Gallery " Il Collezionista"

Award Of The Arts " Donato Bramante" Monumental Complex Museum

Hall Of The Bramante August 25-September 4

Inaguration August 25th at 18:30 Rome ,Italy




International Exhibition " Contemporary Paradise" Villa Castelnuovo

October 15- 18 Palermo, Italy




Italian Art Fair Dubai Emirates UAE

This project is sponsored by the Italian institutions in the UAE, the Embassy in Abu Dhabi and the Consulate in Dubai

DUCTAC Dubai Community Theatre & Arts Center

December 5-11 Dubai Emirates UAE




2014

Parallax Art Fair February 20-22 Chelsea Town Hall, London UK




Exhibition "Divergent Realities"

October 10- October 30

Agora Gallery 530 West 25th str. New York,NY10001




Exhibition "Pathway to Abstraction"

December 23- January 15, 2015

Agora Gallery 530 West 25th street, New York, NY 10001

2013

International Art Fair ARTMONACO'13

April 2013 Grimaldi Forum Monaco




Exhibition " Pathway to Abstraction"

Dec.17-January 9, 2014"

Agora Gallery, New York, NY

2012

Exhibition in Agora Gallery, New York, Chelsea

Exhibition in Art Fusion Gallery Miami, Florida

Kristina Garon listed artist Art in America Annual Guide 2013

2011

Exhibition in De Marchi Gallery, Bologna-Italy

Exhibition in Agora Gallery, New York, Chelsea

International Art Exhibition Museum of the Estense Castle Ferrara, Italy

2010

"Degrees of Abstraction", Agora Gallery, Chelsea, New York City

Art Basel & "Enlightened Synchronicities", Art Fusion Galleries, Miami, FL

"Transluminent Fantasies", Art Fusion Galleries, Miami,FL

"Inner Visions" , Art Fusion Galleries, Miami, FL

"Incantations in Multi-Color" , Art Fusion Galleries, Miami, FL

"Global Arts Projects presents:" The Artist at Home and Abroad"

The Broadway Gallery, New York, NY

"Creative Energy", Museum of The Estense Castle, Ferrara, Italy

2009

"Four Degrees of Abstraction", Agora Gallery, Chelsea, New York City

Juried members exhibition, Arts Club of Washington, Washington, DC

Juried members exhibition, Rockville Art League (RAL), Rockville, MD

2008

International Exhibition, Lilit Kala Academy, New Deli, India

"Transportation Yesterday, Today and Tomorrow", MOCADC Gallery, Washington, DC

Juried Members Exhibition, Arts Club of Washington, Washington, DC

Chronological Bibliography

2015

Art Magazine " Effetto Arte" in color page #366 Publication of my artwork with critical motivation .Paris, France

Publication of my Artwork in a full color page of the official catalog "Paris 015-Carrousel Du Louvre"

ARTisSpectrum Magazine The Chelsea Perspective Volume 33 Article "Kristina Garon" page 33 , Publisher Agora Gallery New York City

2014

ARTisSpectrum Magazine

ARTisSpectrum Magazine volume 31 " The Chelsea Perspective" page 27 Article " Kristina Garon "

ARTisSpectrum Magazine volume 32 " The Chelsea Perspective" page 47 Article " Kristina Garon "

2013

ROYAL MONACO Magazine special edition

Article " ARTMONACO'13 April 2013 One Page Article " Kristina Garon Art is Creativity Bursting Through Our Souls"

ARTisSpectrum Magazine Volume 29 Published in New York, NY

Article " Kristina Garon " page 87 ARTisSpectrum Magazine Volume 30th Anniversary Issue Article " Kristina Garon" page 18

2012

ARTisSpectrum Magazine Volume 27 The Chelsea Perspective. Article " Kristina Garon" Read Article, page # 102

2011

ARTisSpectrum Magazine Volume 25 one page article " Kristina Garon Art" New York, NY. Read Article, page # 46

ARTisSpectrum Magazine Volume 25 one page article " New York My Muse" New York, NY. Read Article, page # 64

NY Arts Magazine Featured Article " Kristina Garon Art" 2 pages New York, NY Read Article by Jason Stopa

Art Fairs International Newspaper " Kristina Garon Art" one page New York, NY

International Contemporary Artists Volume 2 , I.C.A Publishing, Juried Art Book, New York,NY

2010

ARTisSpectrum magazine The Chelsea Perspective Vol.24, November 2010 article

"Art that comes Naturally: Spotlight on Kristina Garon," 5 pages ( #18- # 22 )

Exhibition "Degrees of Abstraction" Catalogue, 1 page, Agora Gallery, Chelsea, New York, NY

ARTisSpectrum Magazine The Chelsea Perspective Vol.23, May 2010 article , title "Kristina Garon", 1page (#7)

Exhibition "Four Degrees of Abstraction" Catalogue, 1 page, Agora Gallery, Chelsea, New York, NY

Kristina Garon"Art Press Release" www.ArtMine.com "Creative Energy"

International Exhibition "Creative Energy" Catalogue Estense Castle Museum, Ferrara

International Exhibition "Creative Energy" Announcement cards, Estense Castle Museum, Ferrara, Italy.

Exhibition "The Artists at Home and Abroad" Catalogue 1 page. , The Broadway Gallery

"Kristina Garon Artist of the Week" 1 page, Art Fusion Gallery Miami, FL

"Degrees of Abstraction" exhibition video, Agora Gallery Website, New York, NY

2009

ARTisSpectrum Magazine The Chelsea Perspective Vol.21, May 2009, article title "Kristina Garon",1 page ( #7 )

Exhibition "Four Degrees of Abstraction" Catalogue, 1 page, Agora Gallery, Chelsea, New York, NY

Washington Project for the Arts Corcoran (WPAC) website, Washington, DC

2008

Washington Project for the Arts Corcoran (WPAC) " 2008 Art Catalogue " 1 page

Education

Academy of Art, Vilnius, Lithuania,

Academy of Art, Tallinn, Estonia